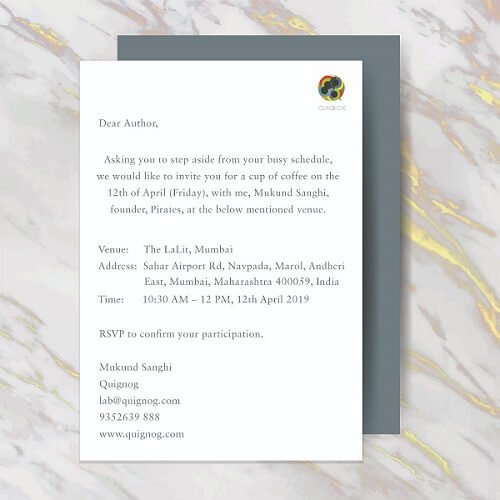 Quignog was not a business idea. It wasn't another start-up. And most importantly, I assure you this, it was never ever meant to be a mere platform of self-publishing printing press that you see all around these days.
It was simply a way to bridge the gap that existed between those authors who wanted to publish with Pirates and vice versa and yet, those books weren't getting published.
We all understand publishing is an extremely tough business, for publishers and authors alike. So we tried to break this down in a manner we can get some sense of it. We asked ourselves, what are the key resources a publishing company should have. And here is a small list that we gathered:
Content Acquisition and list-building: Thanks to you all, we are proud to be doing great here. A variety of exciting stories make it to our inbox daily, and we are tirelessly evaluating them.
Financial Investment and Risk-taking: This is a domain where we ask for your support. And it is important that we stay afloat with new and innovative content, and at the same time share the risk with our authors. Hence, Quignog.
Content Development: We know manuscripts are like uncut diamonds, and publishers need to work really hard to get the cut right. Hence, we develop special skills, unlike any publisher that I know of, to help authors with story structuring, content development, and finally editing.
Quality Control: The situation on this front is really alarming and I feel worried about the future of publishing if this is not addressed. More and more publishers are compromising on quality; for lowering costs, for quicker publishing, or for sheer disregard to the sanctity of the profession we are in. At Quignog, we hand-pick books, proofread them thoroughly and review repeatedly, to make sure we don't compromise in quality. Authors play a very important part in this.
Management and Coordination: Well, this is necessary. We cannot exist without this.
Sales and Marketing: This is again a tough part and we are constantly innovating here. Some of the things we did on this front are: a. Authors have been as panellists at JLF. b. Coverage in the Times of India c. Endorsement by the PMO. d. Wide Pirates Distribution network.
As an author, I invite you for a small informal discussion with me and other fellow authors, about publishing and writing, along with a cup of coffee.
Asking you to step aside from your busy schedule, we would like to invite you for a cup of coffee on the 12th April (Friday), with me, Mukund Sanghi, founder, Pirates, at the below mentioned venue.
Venue : The LaLit, Mumbai
Address : Sahar Airport Rd, Navpada, Marol, Andheri East, Mumbai, Maharashtra 400059, India
 Time : 10:30 AM – 12 PM, 12th April 2019