About the Book : Pratidwandi: The Opponent
"The year is 1852. A fire has engulfed the entire nation. India is under siege and her people are waking up to the realities of a foreign rule. Whispers of a rebellion are doing the rounds; a rebellion that could take the nation like a storm and uproot the East India Company from power, forever."
Sai, a young scion of a legendary family of warriors, is peacefully meditating when the news of his father's death arrives, delivering a major setback to the tradition of Kalarippayattu. Forced to flee his native village and run for safety, Sai gets abducted by a band of dacoits. Just when he is about to lose all hope, he is miraculously saved by a mysterious young boy, who cites a great debt owed to his father. Sai escapes in time, but ends up with a bunch of unanswered questions in his mind.
Why did a stranger in a forest, miles away from his home, help him?
What was his father really up to?
What will be the fate of the great tradition of Kalarippayattu?
Pratidwandi is the first ever series on Indian Martial Arts.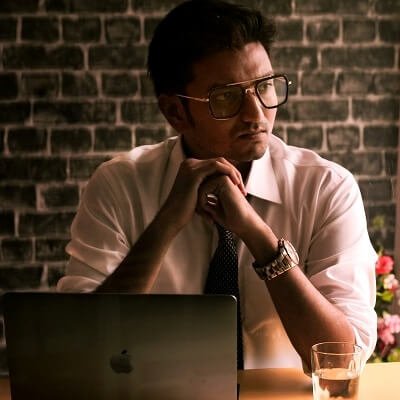 About the Author : Ambuj Gupta
Ambuj is an author and filmmaker based out of Delhi. Till 2018, he was working as a corporate lawyer for a prestigious law firm. In 2018, he quit his job to pursue writing and filmmaking. He started working with a production house called Searchglass Films and was making low-budget documentaries and experimental films till May 2020. He completed his first documentary film, Community, a dog-documentary exploring the relationship between humans and dogs, and released it at some of the most prestigious film festivals across the country. It is available on YouTube. His second documentary film, Heroes of Himalayas, which is on the Green Trails initiative of Indiahikes (the country's largest trekking organization), was released on YouTube in October 2020. He started working on two novel series in the summer of 2020, finishing a couple of manuscripts and laying the foundations for many more, Pratidwandi being one of them.

Ambuj currently lives with his parents in Gurugram, India. He is working as a corporate lawyer and tries to juggle his time between a high-pressure job and creating stories, every day, bit by bit. In his free time, he likes to run and swim.
PUBLISH NOW
You get the first page of your first chapter edited free of cost if you click below. Test us out!
* the prices are for a maximum 250 BnW inside pages (60,000 words) paperback.